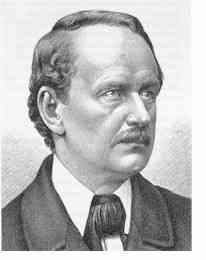 Matthias Jakob Schleiden was born on 5th of April 1804 in Hamburg. His father was a respected doctor.
Matthias Schleiden studied laws in Heidelberg, received his pHD in 1826 and became a lawyer in his hometown of Hamburg. This work was unsatisfactory for him and very successful. He had constantly growing depression which led to the fact that in 1832 he shot a bullet into his head. He was saved and decided to change his life from scratch.
Schleiden 1832 began studying medicine in Göttingen, and won by the influence of his teacher Bartling interest in botany. Schleiden was in 1835 after the Berlin, where his uncle, J. Horkel professor and mainly dealt with plant anatomy, but also with plant physiology. Here he got to know Richard Brown. Both researchers suggested to him to deal with issues of plant embryology and cell formation. It created several botanical papers on these topics. A recurrent depression phase, he overcame with relatives in Wernigerode in the Harz Mountains.
1839, Schleiden received his second Ph.D. (Dr.phil.) in Jena for his botanical work. He becomes Associate Professor in 1840, ordinary honorary professor 1846 and in 1850 appointed professor of natural sciences. Work overload as Vice President and Dean 1862 again led to depression. After disagreements with his superiors in 1863, he took his leave from the civil service until 1864 and took a professorship at Dorpat (Tartu, Estonia).
Afterwards he lived as a private in Dresden, Frankfurt, Darmstadt and Wiesbaden. Matthias Schleiden died on 23 June 1881 in Frankfurt am Main. initially by later botanists. Founder of cell theory. Author of "Broad scientific botany" (1842), of the normal insured botany textbook in the middle of last century. Others he pointed out that water is split during photosynthesis, and not carbon dioxide. CARL ZEISS (Jena) was inspired by him to produce microscopes commercially.